Tribeca Festival is collaborating with the cryptocurrency exchange OKX to launch our first NFT (non-fungible token)—available NOW!
This limited-release offering, grants pass holders access to visionaries and events across creativity and technology. As a pass holder, you will receive pre-sale ticket selection to Festival screenings, special admission to invite-only events and parties, such as our annual awards ceremony with Robert De Niro, and other one-of-a-kind experiences at the Tribeca Festival, June 7-18, 2023.
Inspired by landscapes of Lower Manhattan with Tribeca at the heart of NYC's creative community, this NFT design was created in partnership with AWA Studios and award-winning comic illustrator Jonathan Bartlett.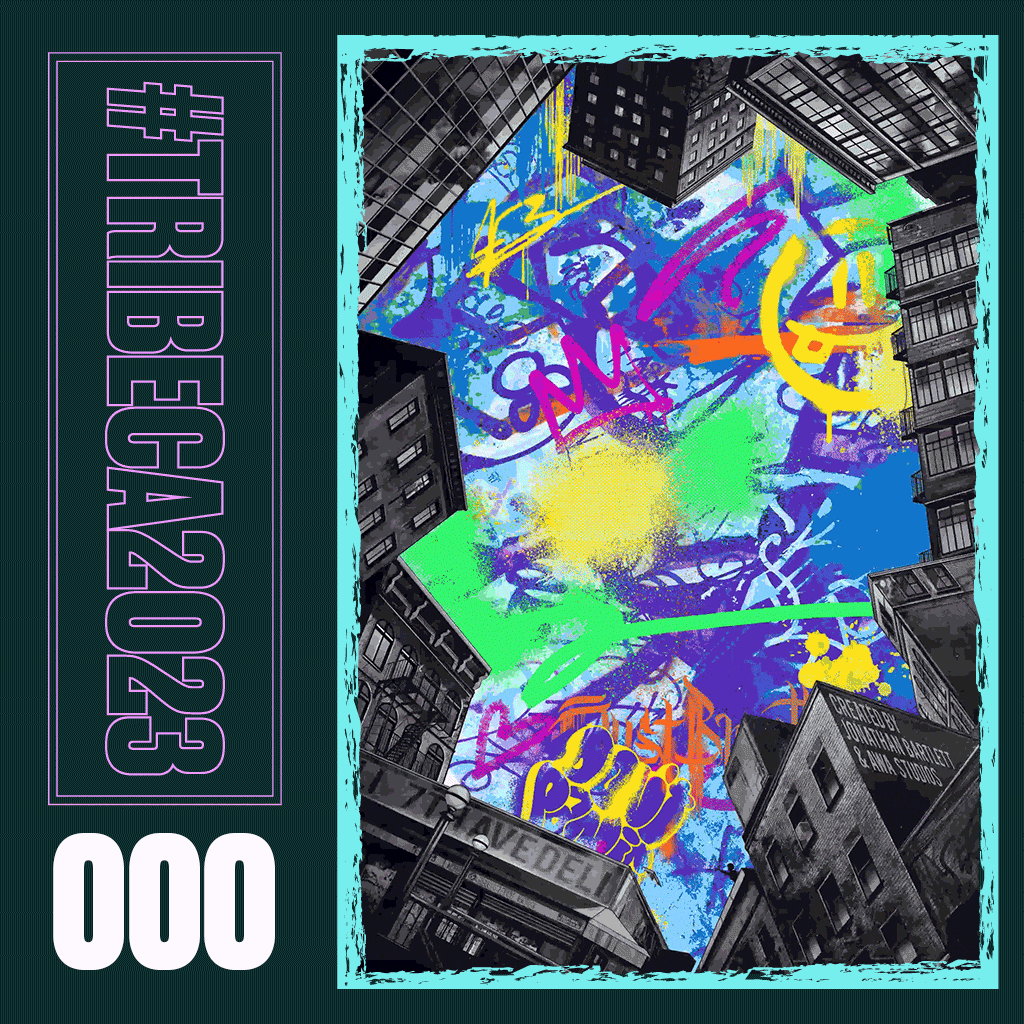 Invitation to our special TF 2023 Awards Ceremony attended by Robert De Niro.
Mingle with the stars: Entry for two into (1) screening and after party, (1) Tribeca Talks event and reception.
Meet the most innovative voices in web3 and NFTs at our invitation-only rooftop cocktail hour.
(1) limited-edition Tribeca Festival item designed exclusively for 2023 NFT-holders.
Go behind the scenes at Tribeca Immersive & Games for one (1) private VIP hour session closed off to the public.
All-access to 2023 Tribeca at Home online programming, our online portal featuring premieres and encore screenings of Festival selections.
20% discount on ticketed events during an exclusive pre-sale window (excluding Beacon events).
20% discount on Tribeca merchandise to use in-person or online
Purchase Your Tribeca Festival NFT Pass Now
To purchase your Tribeca Festival NFT Pass and unlock your exclusive holder benefits, you must submit your crypto wallet and contact information.
If you do not have a crypto wallet, you may create one here.

FAQs
NFTs, or non-fungible tokens, are non-duplicatable digital representations of practically anything from art, collectibles, music, videos, gaming gear, and much more. Every NFT is built and certified by blockchain technology and is unique to the holder.
Your crypto wallet serves as a gateway for your crypto assets (eg. Bitcoin), non-fungible tokens (NFT), and decentralized applications (DApps). Crypto wallets are non-custodial which means that you have full control over all your assets, and are also responsible for keeping your private keys and passwords safe.
To mint and hold a NFT, you will need a wallet that supports NFTs, such as an OKX Wallet. If you don't already have one, please refer to this Step by Step Tutorial to open your OKX crypto wallet.
Open a crypto wallet on a web browser.
Once you create your OKX wallet, click the Copy address icon, select the address of the network that you need to interact with, then click the Copy icon to get the address on your clipboard.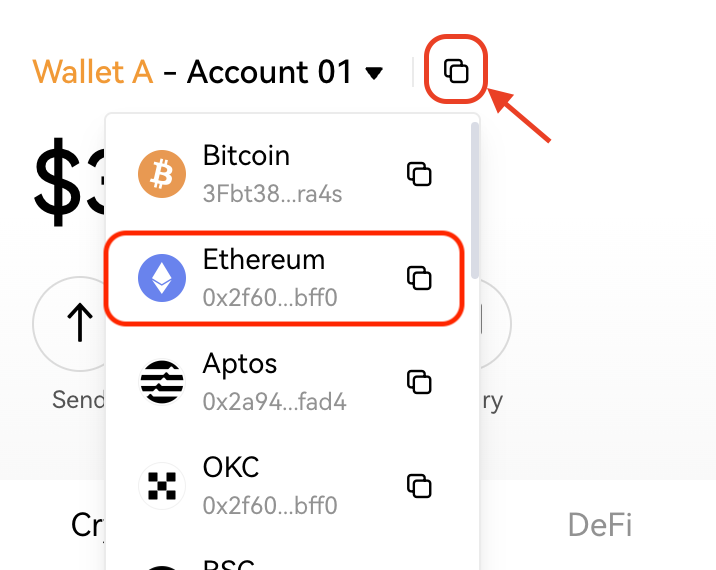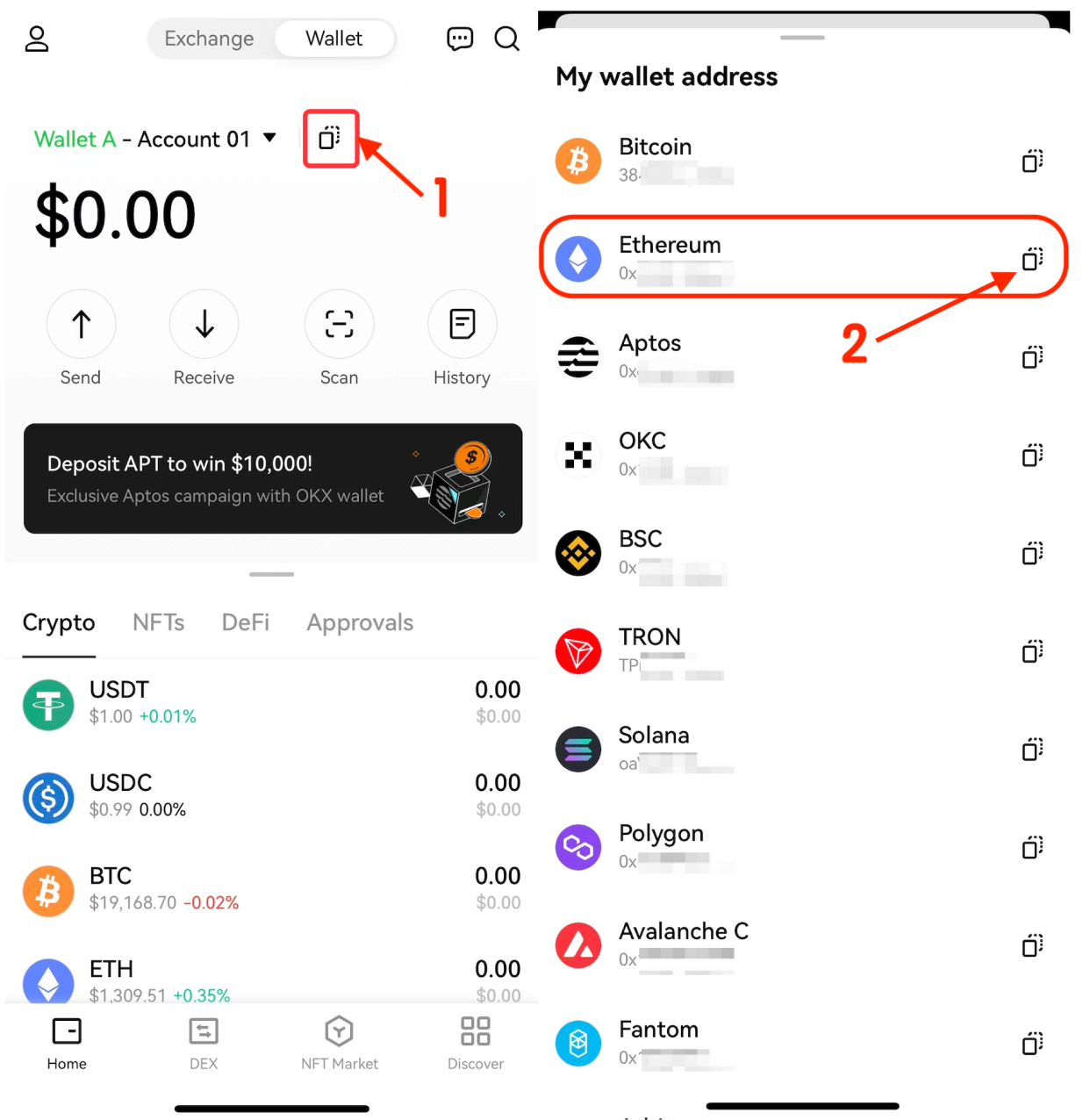 If you purchased the NFT using a credit card, your crypto wallet will automatically receive the NFT within 7 days after purchase.
If you minted the NFT on the OKX website, your crypto wallet will receive the NFT right after minting.
Either way, you can go to your crypto wallet and check the NFT section to view your NFT.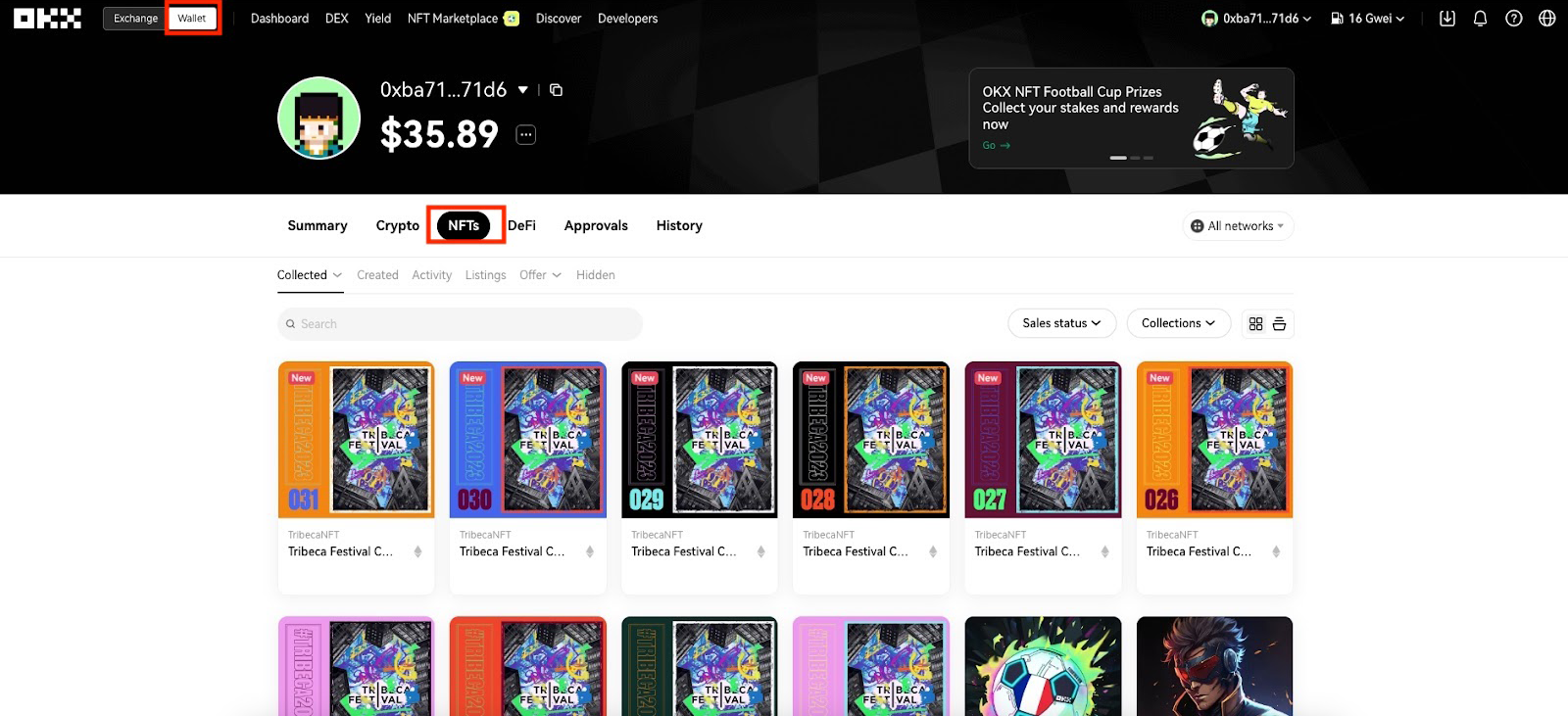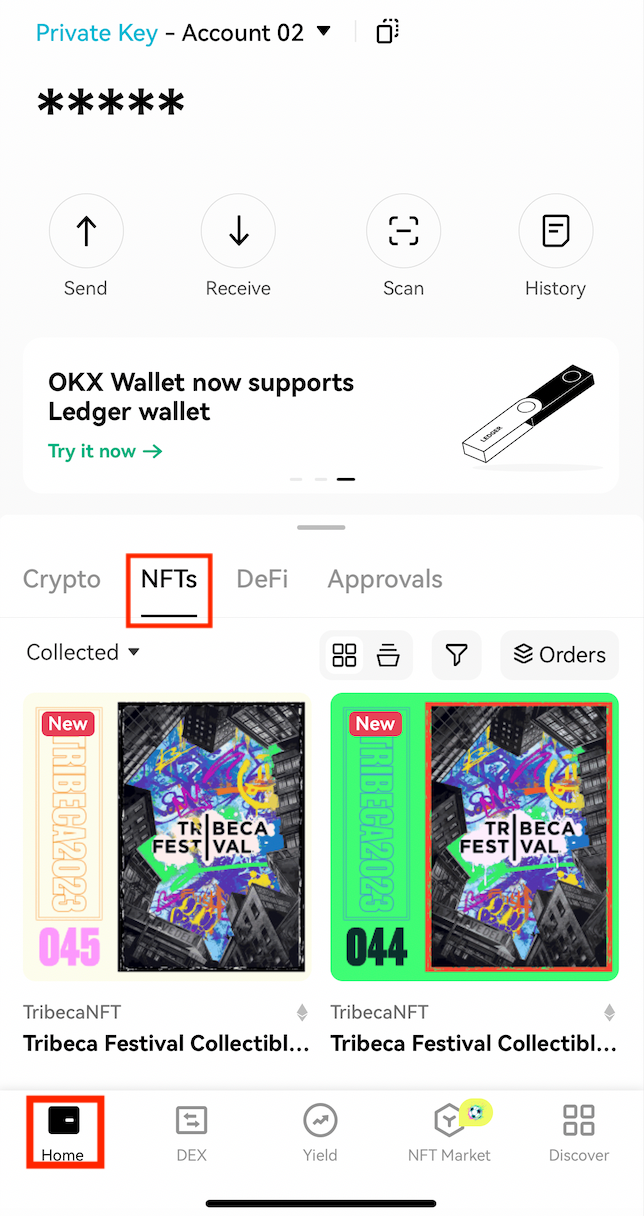 You will need to provide your email address to receive all the exclusive benefit packages.
For all the offline, in-person events (e.g. awards ceremony with Robert De Niro), you will receive an email from Tribeca to RSVP. And at the event, you will need to use your crypto wallet mobile APP to get through the NFT verification.
For all the online benefits (e.g. 20% discount on Tribeca merchandise), you will receive an email with the discount code and benefit details.
If you are a Tribeca Festival NFT Pass holder but forgot to provide your email address, please submit this form at your earliest convenience.
You can view your NFTs on the OKX wallet dashboard, where you can list or transfer your NFTs with ease. Remember that you need to enter the right wallet address to which you want your NFTs to be transferred, otherwise your assets may be permanently lost.
And after transferring, the new NFT holder must submit their Email address and Wallet address to receive the benefit package.
Minting an NFT means you are creating a digital asset which can be stored on the blockchain. Once minted, the NFT can be viewed and utilized from your crypto wallet.
Please refer to the Step by Step tutorial on how to mint a Tribeca Festival NFT Pass.
The Tribeca Festival NFT Pass is nonrefundable.
Please use this form to re-submit your email address and crypto wallet address.