Sandra Bernhard as Masha in The King of Comedy (1982)
Running along the edges of The King of Comedy, Scorsese's hilarious, underrated satire about a wannabe comic (Robert De Niro) and a late night legend (Jerry Lewis), is Sandra Bernhard's Masha, an unhinged rich girl who fosters a pure, batshit passion for Lewis' Johnny Carson-like luminary. The unimprovable Bernhard, herself a brilliant critic of celebrity culture, lends the character a poignantly surreal touch, keeping Masha on a precariously exhilarating scale between innocence and insanity in one of the funniest, fiercest, and most indelible supporting performances of the 1980s. De Niro's Rupert Pupkin may be hell-bent on getting famous at any cost, but Masha is motivated by a desire whose genesis is far more difficult to pin down; instead of filling in the blanks, Bernhard foregrounds the character's outrageous, id-driven idiosyncrasy, which burns right through common sense and rationality. Her long-awaited moment alone with Lewis—complete with a side-slit dress and a seductive rendition of "Come Rain or Come Shine"—will leave you gasping for air.
Lorraine Bracco as Karen Hill in Goodfellas (1990)
As Leonardo DiCaprio's kept, carnal wife in 2013's The Wolf of Wall Street, Margot Robbie earned some complimentary nods to Lorraine Bracco's scrappy rendering of real-life mob wife Karen Hill. But Robbie's Naomi Lapaglia is only ever a prop within Scorsese's scenery, crucially lacking Bracco's compulsive, unfakeable, flesh-and-blood authenticity in a superficially similar role. With her throaty, tongue-tied deliveries and darkly imposing features, Bracco turns this dim, self-deluding bystander into a woman of seething credibility, impossibly spoiled but personally ungratified. Her wounded anger, brittle vulnerability, and tentative culpability all coalesce to supply this distinctly male-focused feature with a persuasive and utterly invaluable feminine perspective.
Ellen Burstyn as Alice Hyatt in Alice Doesn't Live Here Anymore (1974)
Lest we assume that Scorsese always made movies about men, Alice Doesn't Live Here Anymore, a colorful character portrait and one of the most delicious deviations in the director's oeuvre, won leading lady Ellen Burstyn a fully deserved Best Actress Oscar for her sharp and vividly shaded portrayal of the title character, a New Mexico widow who relocates to Tucson with her precocious son and finds work, romance, and rapport in a local greasy spoon. Alice is the sort of rounded, revealing, everyday study of a regular woman that Hollywood just cannot be bothered to make anymore, but Burstyn makes a compelling case for why these films—and heroines—deserve a revival. She keeps a close, critical, and creative grip on Alice while bonding beautifully with all of her costars (including the inimitable Diane Ladd as spunky fellow waitress Flo), offering a flawlessly detailed depiction of warts-and-all womanhood at its most real and resilient.
Vera Farmiga as Madolyn in The Departed (2006)
The Departed, Scorsese's fast, febrile, Boston-bred re-envisioning of the Hong Kong policier Infernal Affairs, could serve to be a tad more invested in Madolyn, the oblivious police psychiatrist who becomes involved with both Matt Damon's duplicitous double agent and Leonardo DiCaprio's brooding undercover operative. On the page, it's a role whose mechanical function is comprehended almost immediately. But on screen, in the hands of that spry acting sorceress Vera Farmiga, Madolyn becomes a different and deeper creation entirely. Farmiga can up the erotic intrigue of a scene with just a well-timed flick of her piercing, laser-like stare, but she also endows this stock character a complete psychological journey from confidence to uncertainty to furious despondency. Long before her last shot, an inspired quotation of Alida Valli's solitary, forward march at the end of Carol Reed's The Third Man, Farmiga has found a rash, rattled, and headstrong woman within a script that didn't even know one existed.
Jodie Foster as Iris in Taxi Driver (1976)
Instantly iconic, hugely controversial, and wholly unforgettable, the casting of a then-13-year-old Jodie Foster in the pivotal role of Taxi Driver's teenage sex worker Iris is just as deeply etched in film history and our wider pop cultural lexicon as De Niro's self-righteous misanthrope Travis Bickle in Scorsese's cinematic touchstone. Audiences have a fair but unfortunate tendency to only recall the notoriety of Foster's Iris: the nude scene, the shootout, the working girl wardrobe of crop-tops, hot pants, and clunky, plastic sunglasses. But it's Foster's performance that remains the real triumph. The actress' instinctive behavior in those intimate, extended interactions with De Niro contributes to pinnacles of ace movie acting: she is direct, delicate even when flaunting impropriety, and as believably callow as an adolescent in Iris' precarious position can be. By playing up the character's artless but not unquestioning normalcy, Foster's performance bespeaks a wisdom far beyond this future legend's years.
Juliette Lewis as Danielle Bowden in Cape Fear (1991)
Eight admirable performers have received Best Supporting Actress nominations for Scorsese pictures, including The Color of Money's Mary Elizabeth Mastrantonio, The Age of Innocence's Winona Ryder, and The Aviator's Oscar victress Cate Blanchett. Reigning supreme among this enviable roster of vivid turns is Juliette Lewis' staggering and psychologically intricate depiction of a curious teenage rebel in Scorsese's meticulous remake of Cape Fear. The thriller's peak—a ten-minute seduction between Lewis' defiant ingénue Danielle and De Niro's Max Cady, the ex-con terrorizing her family—is a jaw-dropping master class in emotionally-exposed naturalism, the burning chemistry between these two performers burning faster than the North Carolina heat. As Danielle becomes magnetized by this sudden display of lecherous attention, Lewis, a formidable and criminally underrated actor, wades through a morass of conflicting impulses, making palpable and genuine the confusion of being attracted to that which also terrifies. It's one of many summits in what may very well be, to my mind, the most impressive screen performance by a young actor, ever.
Liza Minnelli as Francine Evans in New York, New York (1977)
New York, New York, Scorsese's splashy, cynical, and masterfully-made postwar musical, was egregiously cold-shouldered upon its release, as was the singular star turn of Liza Minnelli, doing an adoring yet galvanizing variation on Mama Judy Garland's legendary A Star is Born role. As Francine Evans, an aspiring 1940s singer who falls under the influence of De Niro's callous, captivating saxophonist, Minnelli is perpetually in motion, propelled by an insatiable need to please audiences and lovers alike. Minnelli is, of course, a stupendous, show-stopping singer-dancer with a walloping and finely honed talent that decidedly belongs to the bygone studio era in which her mother rose to otherworldly stardom. Minnelli's artistic mastery is startlingly reminiscent of Garland's yet differentiated by the pure, jubilant passion she exudes at all times when performing; has any artist ever radiated more graciousness for an audience's gaze than Minnelli, as if the enormity of her abilities didn't already demand our undivided attention? But, more than anything else, it's the actress' tough-minded, deeply-felt emotionality—culminating in an elevator descent of tremulous, heartbroken stillness—that proudly places her Francine beside Garland's Vicki Lester, Julie Andrews' Maria von Trapp, Barbra Streisand's Fanny Brice, and Minnelli's own Sally Bowles in the eternal pantheon of preeminent, pitch-perfect musical performances.
Cathy Moriarty as Vikki LaMotta in Raging Bull (1980)
First glimpsed in a series of libido-stoking poses as Jake LaMotta's beguiled child bride-turned-infuriated ex-wife, Cathy Moriarty evades the heavy possibility of becoming an empty-headed sex doll with a self-effacing performance that projects its own fascinating mystique. Scorsese and screenwriters Paul Schrader and Mardik Martin don't afford the actress any Sharon Stone-in-Casino-sized tantrums or Bracco-level crack-ups, but Moriarty's loose, lived-in style manages to turn the character into something much more impressive than an overwhelming scene-stealer. The actress can give it right back to De Niro with lusty abandon, but her Vikki lingers in the mind as a woman of surprising, subdued intelligence and quietly calculated defiance. She understands—and disobeys—far more than she lets on, but hides it all beneath crackling eyes and a tiny, pursed-lip bow of a smirk. Moriarty's sly, sphinx-like silence in a hotel room row between De Niro and Joe Pesci is arguably more interesting to study than the brotherly brouhaha itself; that's a testament to the fine-tuned underplaying and effortless allure of this gifted talent, who seldom received the meaty roles she deserved after this entrancing debut.
Michelle Pfeiffer as Ellen Olenska in The Age of Innocence (1993)
Has modern cinema ever found itself a more stunning tragedienne than Michelle Pfeiffer? Scorsese called Pfeiffer "the best we have" after seeing her in Stephen Frears' Dangerous Liaisons, and based on the evidence of Pfeiffer's dazzling, disgraced, and deep-feeling Countess Ellen Olenska in Scorsese's lush adaptation of Edith Wharton's The Age of Innocence, it's easy to concur. Grappling wondrously with Daniel Day-Lewis as the betrothed object of her character's veiled affections, Pfeiffer cuts right to the heart of Wharton's incisive social critique with all the exquisite tension and poignant, slow-burning emotion of an intense and impossible love deferred. Her cat-like eyes contain the flame that could set the veneers of this upper-crust, 19th century milieu aflame if freed. Just looking at a frozen still of Pfeiffer in Scorsese's romance is enough to make you wish that this perceptive performer still worked at the rate at which we need her, which is always.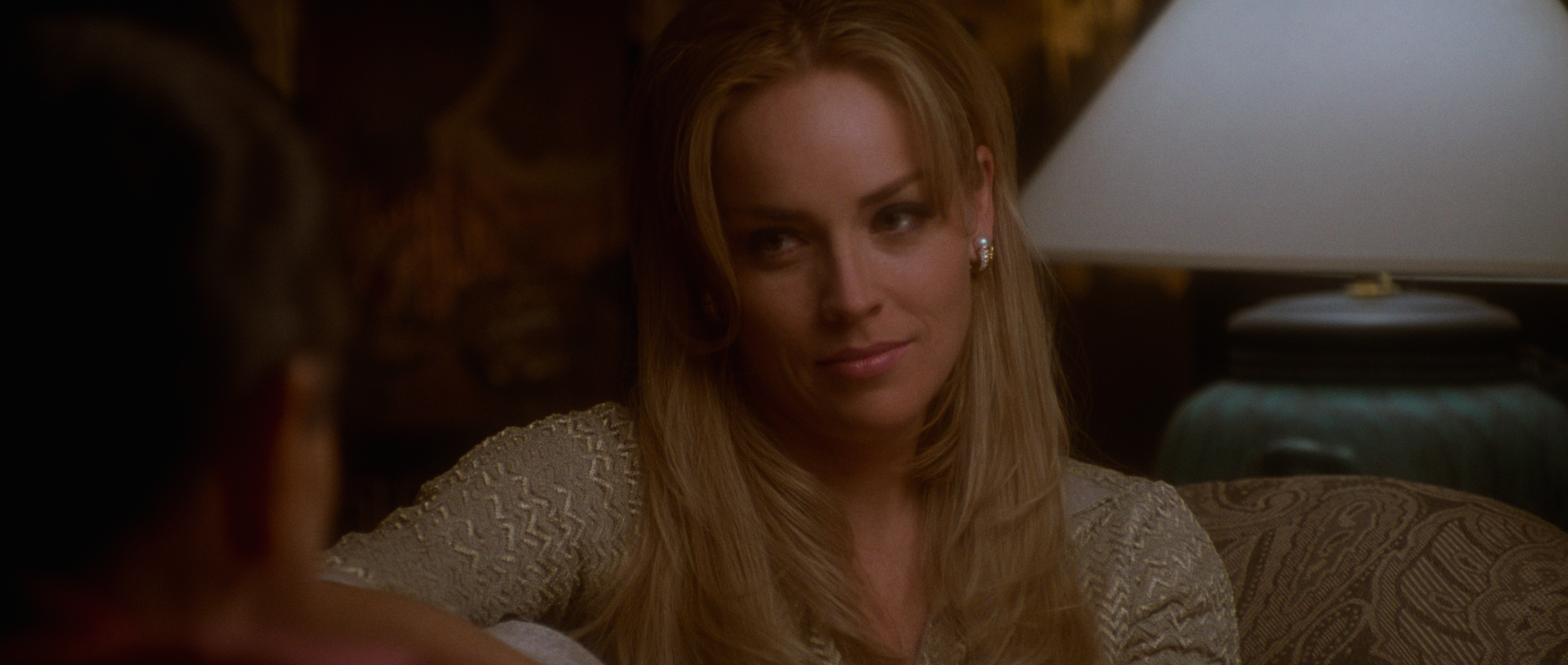 Sharon Stone as Ginger McKenna in Casino (1995)
Nothing and nobody else matters in Scorsese's Casino whenever Sharon Stone's decadent and devastating Ginger McKenna slinks into a frame. Playing a bona fide hustler unhappily betrothed to De Niro's smitten casino honcho, Stone is the single most striking element in Scorsese's fact-based Las Vegas crime saga. The actress can take our breath away just by strolling into a room in a beautifully beaded Bob Mackie gown, but she's also playing a real, anguishing woman to never less than riveting effect. Stone's voluptuous emotional shadings make us believe every stage of Ginger's ever-shifting character, whether it be the scam artist with a criminal knowledge to rival any man's, the codependent lover, the keyed-up addict, or the materialistic housewife itching to get out of her lavish prison at any cost, even if it means offing her husband/jailor with the help of his equally infatuated best friend. Stone never sands down Ginger's rough edges and her strident, exceptionally physical blow-ups in the film's final act conjure an intricate and unabating intensity that some critics like to pretend is the exclusive provenance of men in Scorsese's movies; they're wrong, and Stone's superb and rightfully iconic performance is the enduring proof.
---