At the opening weekend screening I attended of Marielle Heller's breathtaking film debut The Diary of a Teenage Girl, Heller herself was in attendance for a post-film Q&A, where the writer-director spoke openly about the difficulties inherent in finding a capable (and game enough) young actress for the lead role of Minnie, an adolescent graphic artist who pursues an affair with her mother's boyfriend in 1976 San Francisco.
It's a part Heller herself had played back when she adapted Phoebe Gloeckner's titular graphic novel into a stage play, which ran Off-Broadway in 2010. As Heller described, Minnie is a difficult role rooted in a series of seemingly impossible contradictions that would be a challenge for any young actress to undertake: she must look unmistakably youthful and emit a childlike sense of wonder, all while seeking out very adult desires. She must appear assertive in her decision-making, while nonetheless embroiling herself in a fundamentally illicit situation, of which there are no pure victims or villains. She must recognize Minnie's keenly-awakened sexuality without exploiting it, even while others onscreen do just that. And she must be able to handle the clever comedy of the film without sacrificing the poignant drama that is crucial to the piece and to Minnie's growing understanding of her own thrilling evolution.
To be clear, Heller deserves immense acclaim for so smoothly finessing these apparent clashes through such inventive and immersive direction and exceptionally audacious screenwriting. I fail to understand how anyone walked out of Sundance this year talking about anything other than Diary and that's in large part due to Heller, who deserves all the more credit for not retreating from the story's dicey ambiguities and darker implications. Heller tells a remarkably rounded, rangy, and mixed-media coming-of-age story for a genre so typically one-track minded and she deserves to be in any and all conversations surrounding adapted screenplays and first film prizes these next few months.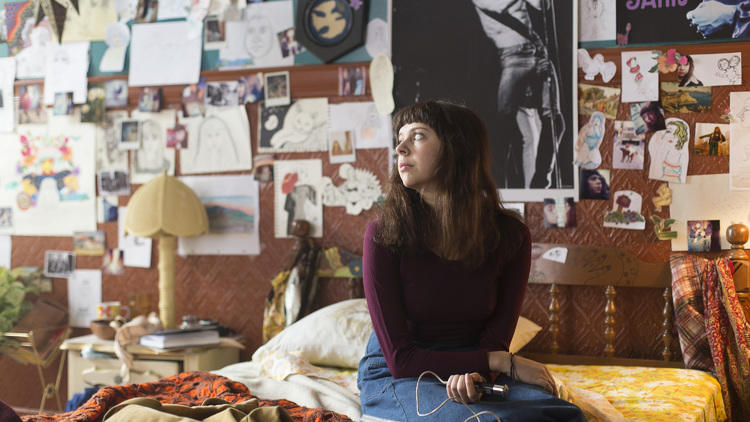 But since seeing Diary this past August, not a single day has passed where I haven't thought about the phenomenal Bel Powley.
Powley, a 23-year-old, saucer-eyed British up-and-comer/secret acting genius with a range of credits across film, stage, and television, won over Heller with an audition tape in which she broke character and confessed how much the part and project meant to her. Much of the press surrounding Powley's breakthrough has been devoted to just how "shocking" it is that a British performer could so comfortably shed her natural accent and – gasp – adopt an American one, as if Emily Blunt, Keira Knightley, and Carey Mulligan have only been playing Shakespearean heroines for the past decade. Powley's American accent is flawless, but why do we allow ourselves to get so hung up on such trivial surface elements of a role, when Powley's performance itself is an inimitable feat of acting at its most deftly and beautifully internalized?
If Powley experienced any hitches or nerves in carrying an entire feature film in her first centerpiece role or embodying a character as provocative as Minnie then they are rendered absolutely invisible on screen. Which is to say that you never catch Powley acting even for a second, and there isn't a moment in Diary where I didn't believe that the actress, who was 22 during production, was a gawky, insecure San Franciscan 15-year-old sorting through surging hormones and some pretty incredible personal developments. There's plenty of animation in Diary as Heller brings Minnie's private drawings to radiant cinematic life, and, still, the most striking thing onscreen is the gleam in Powley's pool-like eyes, which widen with cartoonish color and signal spiritual depths that simply needn't be put into words. Powley digs as deep into Minnie as humanly possibly, occupying her headspace, and leaving no room whatsoever between actress and character. She feels Minnie from the inside-out and offers up her roiling emotional state not with the calculated precision of a performer who wants you to notice one major note per scene, but with the warmly spontaneous sensation of feeling that is completely imperative to this portrait of a young girl at sea amidst a multiplicity of emotions that cannot be condensed to mere lust or loneliness.
Through such rare emotional know-how, Powley forges an intense and enthralling erotic bond with Alexander Skarsgård, who's terrific as Minnie's louche lover Monroe. But she also builds a believable and casually compelling relationship with the great Kristen Wiig, who refreshingly enacts the subtly tricky role of the erratic and dissolute single mom without any of the aloofness or self-absorption with which this archetype tends to be drawn. On only the second or third occasion in her post-Saturday Night Live film career, Wiig seems genuinely matched – and challenged – by a budding character actor of potentially comparable flair and, in turn, contributes one of her most rewarding screen performances to-date. That's the power of Powley.
Powley makes Minnie's inner life as vivid as any artist can draw it, but she's also a strong comedienne, equipped with killer line readings and a comic touch that's remarkable for the utter sincerity of its spirit. On the page, there's a pleasing lack of irony to Minnie, a characteristic that is heightened – but not exaggerated – by Powley, who locates plenty of hidden humor in Heller's already amusing script by playing so many lines and scenes with an uncommon level of straight-faced honesty. In an era of teen-driven comedy where hundreds of screenwriters and actresses are still trying to create the next Juno MacGuff, Powley and Heller ditch the sarcasm and instead shape a character who's written and acted with an unusual layer of candor and curiosity that's just as cheekily memorable and coltishly spirited as Ellen Page's acerbically iconic misfit, but even more precise. Minnie's giddy, denim-clad journey is general enough to warrant Diary's closing dedication of "This is for all the girls when they have grown," but in Powley's hands, Minnie couldn't possibly be a more particular individual.
So, why isn't a performance this astonishing an undeniable Academy lock? Probably because any movie, much less a modestly-budgeted indie, in which teenage girls think and talk about and, yes, have sex with the frequency and fervor that are only acceptable from pie-fucking teenage boys still makes Hollywood clutch their collective pearls. But that doesn't mean we should just sit back and let Powley's galvanizing performance go silently into that pre-Oscar hubbub, where all anyone cares to talk about is Cate Blanchett and Carey Mulligan. Blanchett is impeccable in Carol and Mulligan is the only asset that makes Suffragette work as an actual movie, but they're hardly foreign entities to Oscar, who could serve to venture outside his comfort zone when it comes to female performers.
I'm not sure any other actress could have melded Minnie's humor and humanity as gorgeously as Powley. Her screen presence has all the verve and confidence of young Kate Winslet, and yet Powley's persona somehow feels even more vivaciously assured and specific. She remains dutiful to Heller's brave conceptions – and Gloeckner's, before her – but possesses her own worthy ideas about Minnie that enable Diary to become indelible, awe-inspiring cinema.
When I think about Minnie (and I do, often), my mind tends to wander far beyond the scope of Diary's story: Who has she become? Where might she be? Has she gotten everything she wanted – personally, professionally, artistically – and what would that look like, anyway?
At one point or another, a screenwriter realizes she can only capture so much of a character and needs a flesh-and-blood performer to realize the rest. It almost doesn't matter if Gloeckner's original story is autobiographical, as the author has been slightly wary of admitting since Diary's initial publication in 2002. Minnie is ultimately both a shared vision and a singular creation. Like all great characters, she seems to exist outside the bounds of space and time, an achievement that cannot be attributed enough to Powley, who will surely keep her agents preoccupied for years to come.
In the most unexpectedly lovely scene of Diary, Minnie drops acid with Monroe in his apartment during one of the darker days of their affair. Left to herself, Minnie has a moment of clarity, as it dawns on her that it is she who posses the power in this relationship. "I refuse to be a sniveling crybaby," Powley narrates. Her voice, soft and curious by nature, suddenly takes on an authoritative potency. "I'm a fucking woman and this is my life," she declares, as Minnie sprouts shimmering, rainbow-colored wings and floats into the air above Monroe's bed, the very vision of a regal teen queen. It's the most sublime sight in an entire year of movies and a moment that triumphantly re-sketches what it feels like for a girl, aided by a bold performer who has traversed new and precarious heights on an artistic voyage that has only just begun.
---