When it comes to cinema, what's more authentically New York than the Tribeca Film Festival? Actually, the answer is not a "what," but a "who" — it's Spike Lee, of course. Ever since his days as a grad student at NYU's Tisch School of the Arts back in the early '80s, the Atlanta-born, Brooklyn-raised filmmaker has immortalized Manhattan, the Bronx, and, naturally, his beloved BK in classic films like Do the Right Thing, Jungle Fever, Crooklyn, Clockers, and 25th Hour. As intelligent as he is audacious, Lee has always painted the Big Apple in the most genuinely revealing of lights, keeping it all the way real about race relations, inner city politics, social injustices, and, in the case of Summer of Sam, chapters of NYC's history its lifelong resident most likely wish they could forget but never should.
SEE THE FULL 2015 TRIBECA/ESPN SPORTS FILM FESTIVAL LINEUP HERE

But Lee's on-the-pulse connection to New York runs deeper than the movies. The iconic cinephile is also a ravenous sports fan, jumping at any chance he gets to publicly give endless props to his two favorite teams in all of professional athletics, the New York Knicks and the New York Yankees. Whereas other directors consistently wear suits and blazers, Lee stays dressed in Yankees fitteds, Knicks jerseys, and Jordan kicks. And, best of all, his intense passion for all things sports has bled into his behind-the-camera hustles, resulting in numerous documentaries about legendary athletes and narrative films spiked with touches of his New York sports affinities.

And that'll only grow stronger at this year's Tribeca Film Festival, where—as it was announced today—Lee will screen his new short film The Greatest Catch Ever, an ESPN 30:30 special about New York Giants wide receiver David Tyree's crazy and widely debated "helmet catch" that helped the G-Men win Super Bowl XLII in 2008. In honor of Lee's latest exhibition of his biggest non-cinema interest, here's a breakdown of the rightfully lauded auteur's history of giving fans the best of both worlds.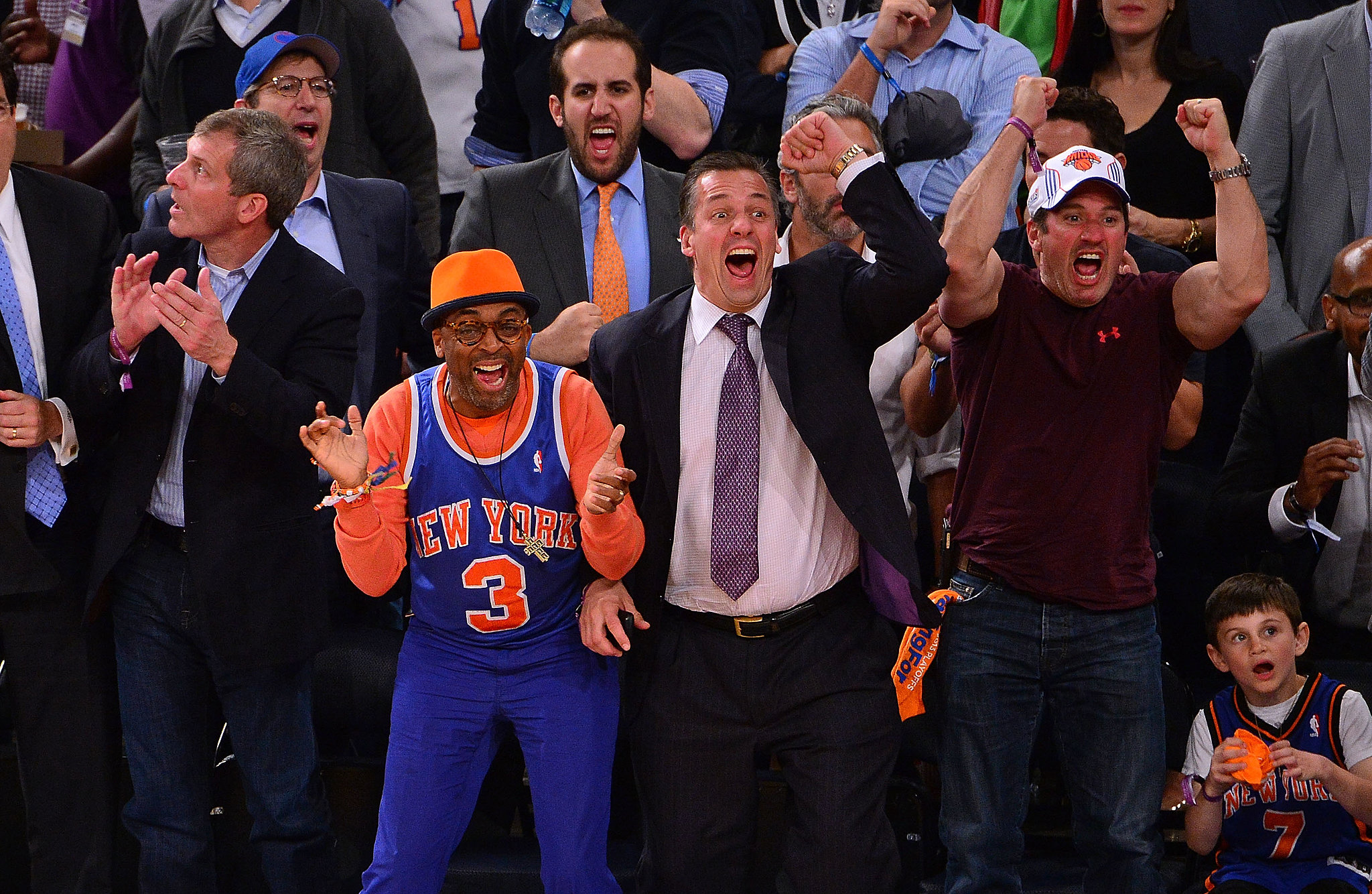 Being the New York Knicks' Most Loyal Home-Game Fan
Inside Madison Square Garden during the NBA season, Spike Lee is as much of a fixture as overpriced soda, Patrick Ewing memorabilia, and orange hoodies. Frankly, calling Lee the Knicks' official mascot wouldn't be far from the truth, especially since, you know, the team doesn't have your traditional guy-in-a-goofy-costume mascot.
For as long as he has been famous, Lee has been seen courtside at his cherished Knickerbockers' home games—he's New York's answer to Los Angeles' Jack Nicholson, always rocking blue and orange sports gear while everyone else in the front row sports GQ-ready attire. Not to mention, he's always the loudest person in MSG, often talking audible smack to opponents and high-fiving hometown guys like Carmelo Anthony.

Just how seriously does Lee take his MSG residence? Last year, while pushing the Kickstarter crowd-funding campaign for his film Da Sweet Blood of Jesus, the hoops lover offered a seat next to him on the court for anyone who pledged $10,000 or more. Whether he threw in a $40 pennant, or at least a $15 hot dog, hasn't been determined.
Turning the Air Jordan Brand Into a Global Juggernaut
Without Spike Lee, one could argue, the sports/style/cultural phenomenon known as Air Jordan wouldn't be what it is today. Granted, Michael Jordan's superhuman-like basketball skills would've birthed must-own gear regardless, but it was Lee's commercials for Jordan's first line of Nike-backed sneakers, which premiered in 1988, that turned Air Jordans into a worldwide craze.

Shot in black-and-white, the spots featured Lee as Mars Blackmon—a character originated in his 1986 feature film debut, She's Gotta Have It —watching in wide-eyed disbelief as MJ displayed the roundball talents that've made him the greatest basketball player of all time. The reason for Jordan's godlike game? In Lee's words, "It's gotta be the shoes!"
Giving Michael Jordan an Epic Rap Video Look with "Crooklyn"
Oh, the good old days of rap movie soundtracks, when record labels invested the time and money to corral dozens of hip-hop artists to create original music for cinematic purposes—those days are, sadly, ancient history. But few directors knew how to properly compile soundtracks like Spike Lee, who blessed his semi-biographical 1994 film Crooklyn with a theme song that's still a true NYC rap head's dream come true: "Crooklyn," featuring Brooklyn-bred MCs Special Ed, Masta Ace, and Black Moon's Buckshot spitting bars over Q-Tip timeless boom-bap production, complete with DJ Evil Dee's scratches for the hooks.

As if that wasn't all authentic enough, Lee directed the track's Brooklyn-centric music video, which opens with BK natives and sports giants Mike Tyson and Michael Jordan shouting out their borough-of-choice.
Bringing a New Era to Collectible Yankees Caps
The only sports team Spike Lee loves just as much as, if not more than, the New York Knicks is, of course, the New York Yankees. No matter where he's making an appearance, Lee can either be seen decked out in Knicks or Yankees gear, so it's only right that he'd get his own specialized Yankees hat. In 1996, he made a personal phone call to New Era's current CEO, Chris Koch, to request a scarlet red Yankee cap. Which he received, naturally, and promptly wore it to the third game of the Bronx Bombers' 1996 World Series against the Atlanta Braves. And now, that same hat is a collector's item, having been reissued via the Heritage Series: The Spike Lee – 1996 World Series Collection.

Looks like Jay Z's whole "I can make the Yankees cap more famous than the Yankees can" philosophy isn't only exclusive to Shawn Carter.

Casting NBA Star Ray Allen in the Hoops Drama He Got Game
You wouldn't expect the button-pusher behind movies like Do the Right Thing and Malcolm X to make a soft basketball drama—Like Mike, this most certainly isn't. A gritty and often unapologetic look at the life of a burgeoning hoops star, He Got Game (1998) brought NBA stud Ray Allen to multiplexes as Jesus Shuttlesworth, the nation's top high school recruit; frequent Lee collaborator Denzel Washington plays Jesus' jailbird father, given a week-long reprieve from prison to convince his estranged son to play college ball for the state senator's alma mater. Complete with sex, groupies, drugs, and more sex with groupies, He Got Game is basically the opposite of an NCAA-approved recruitment video.

Producing the Classic Sports Romance Love & Basketball
Even in his hands-off pursuits, Lee has married the film world with his sports jones. One of the best cinematic romances of the 2000s, director Gina Prince-Bythewood's beautifully made Love & Basketball (2000) wouldn't have left as many Kleenex boxes empty as The Notebook if not for the producing muscles of Lee's 40 Acres and Mule Filmworks. Omar Epps stars as Quincy, a hotshot NBA player whose love for hoops is only rivaled by how sprung he's always been on his childhood sweetheart, a fellow b-ball star Monica (Sanaa Lathan). Leave it to Spike Lee to make a love letter to basketball that's literally about love.

Paying Well-Deserved Tribute to an NFL Hall-of-Famer with Jim Brown: All-American

Throughout his career, Lee has spoken publicly about the frustrations and failures he's experienced trying to make biopics about legendary black game-changers like Jackie Robinson and James Brown. Fortunately, though, there's always the documentary format, with which Lee's been able to profile the folks he'd otherwise be unable to in narratives.

One of Lee's most underrated docs is Jim Brown: All-American (2002), the star-studded look at how the NFL great and Hollywood veteran's gridiron and big-screen triumphs were matched by his noble efforts as an activist. Lee honors Brown's longtime mission to reform inner city gang members in cities like Los Angeles and Cleveland (the latter holding significance since his Hall of Fame career came with the Cleveland Browns). And while doing so, he seamlessly merges cinema and sports—name another movie that features both Raquel Welch and Hank Aaron.

Capturing the Man Behind the NBA Champion in Kobe Doin' Work
Proving he's a hoops-loving equal opportunist, Lee left Madison Square Garden and his beloved Knicks to venture out to the West Coast, specifically to the Staples Center, to shoot this intimate and revealing doc about Los Angeles Lakers megastar Kobe Bryant. An NBA chamber piece of sorts, the 2009 ESPN documentary Kobe Doin' Work centers on the Lakers' April 13, 2008, game against the San Antonio Spurs, mixing highlights with Bryant's reflective, stream-of-consciousness voiceovers.

Crushing the Souls of All Fellow Knicks Fans with Winning Time: Reggie Miller vs. the New York Knicks

Imagine Michael Moore trying to make a respectful, if not outright awestruck, documentary about George W. Bush—that's pretty much what it must've been like for Spike Lee to direct this ESPN 30:30 standout. The hugely entertaining and lighthearted 2010 doc recaptures the numerous heartbreaks felt by Knicks supporters and caused by Indiana Pacers legend Reggie Miller, a.k.a. the New York Knicks killer. Watching it while wearing blue and orange is the ultimate form of masochism.

During Miller's on-court days, he and Lee were regular antagonists for one another at the Garden; in Winning Time, though, they're playful collaborators, remembering Miller's golden Garden-slaying games—along with classic Knicks like John Starks and Patrick Ewing—with the kind of livewire enthusiasm only a filmmaking basketball fiend like Mr. Lee could orchestrate.

Showing Love to Carmelo Anthony's Childhood Playground in Red Hook Summer
Though he's always been an independently minded filmmaker, Lee has fully embraced that screw-the-system mentality in recent years, going back to the basics and making smaller DIY movies. Unsurprisingly, he couldn't resist infusing one of them with his Knicks-loving spirit. In the heartfelt 2012 indie film Red Hook Summer, he set the coming-of-age tale in and around Brooklyn's Red Hook Projects, a.k.a. where Knicks star Carmelo Anthony grew up, even going so far as to end the film with a BK-focused montage punctuated by close-ups of a street-ball court painted as a giant blue-and-orange shrine to Anthony.

Humanizing a Controversial Sports Heavyweight with Mike Tyson: Undisputed Truth
Because he'd be a slacker if he'd only stuck to making classic movies and TV documentaries, Lee switched his attention to the stage for this raw and revelatory one-man show. It's easy to understand what attracted Lee to the Undisputed Truth project—after all, you'd be hard-pressed to find a celebrity with as many insane stories to tell and as much enigmatic allure than Mike Tyson, the one-time boxing titan and current self-aware pop culture punchline. Rooted in sports, Undisputed Truth — which aired as an HBO special in 2013 — earned its can't-miss stripes in how Lee focused on the complicated man over the formerly unstoppable champion.

Giving a Little League Star the Major League Treatment with Throw Like a Girl

Never one to pass up a one-of-a-kind sports story, especially one about an inspiring black athlete, Lee quietly put together this 16-minute short for Chevrolet last year. And he couldn't have found a better subject.

Becoming a national darling overnight, 13-year-old baseball queen Mo'ne Davis shocked the world by hurling her 70-mph fastball and pitching a shutout game during the traditionally boy-dominated Little League World Series. In Throw Like a Girl, Lee admirably takes Davis off the diamond and shines a glowing light on the honor roll student's all-star achievements in the classroom.
---