DOG DAYS OF SUMMER
Benji, Lassie, and even, yes, Cujo – they all share a common ancestor.
The year was 1909. Hollywood didn't even have its first soundstage yet. On the set of Vitagraph Studios in New York the writer Lawrence Trimble had a story about a dog, innocent children, corrupt adults and a pile of cash. Vitagraph thought no dog could possibly act the piece, but Trimble trained a collie named Jean, who was soon in the thick of a vibrant career, acting opposite Helen Hayes in Jean and the Calico Doll. It was the first dog-starring film ever made, the birth of an enduring genre.
Dog films are amazingly versatile. They often concern a search for home (a Dogyssey?). They can easily run towards Hallmark Channel mawkish (Marley and Me) or the bankably formulaic (Turner and Hooch). Sometimes, as with Benji or Old Yeller, we get a classic that touches everyone's heart. But, ever since 2018's beloved Isle of Dogs, the genre's had a tough run. Harrison Ford's Call of the Wild made decent money, but the use of a fully CGI dog (not one hair was real) left audiences (and in moments, it seemed, Ford himself) feeling, well, weirded out. The script says the movie is set in the Yukon, but it plays more as Uncanny Valley and, with the WGA strike dragging on, Call of the Wild's greatest significance may be as an early warning against encroaching AI, the disruption of things that don't need disrupting.
Which brings us to the summer's prize-winner for experimentation: Strays. Directed by Josh Greenbaum, with amazing voice work by Will Ferrell, Jamie Foxx and Isla Fisher, the film takes the dog genre into R-rated comedy: a dog is abandoned by a bad owner, finds friends and sets out to (yes) castrate his owner. It's hilarious and innovative – and bounced off the box office like a chewed-up tennis ball. Maybe, like Call of the Wild, Strays forgot the heart of the genre, how a dog-starring movie, like none other, offers something unique and reassuring, worthy of Terrence Malick, call it canine gaze: a glimpse of whatever magic lives behind the eyes of the one creature who, wisely or foolishly, has decided to love us deeply. And maybe the sweetest thing about Strays happened off-screen: Greenbaum adopted one of the pooches from the film.
BY ANIMALS, FOR ANIMALS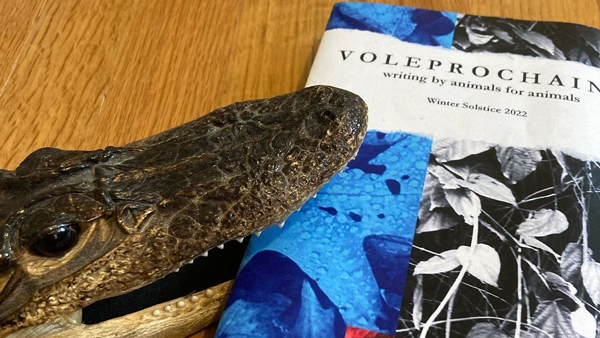 Behold Voleprochaine, the rare literary zine in which humans, no matter how accomplished, must check their bylines and egos at the door and write entirely from the perspective of animals. Created by writer and editor Jessie Kindig, this autumn brings a special issue, in which (possible plot for future summer blockbuster?) the plants rise up and take control of the zine from the animals halfway through. And why not? They supplied the pulp on which the thing is printed. Available at McNally Jackson and Blackspring Books, or subscribe directly via voleprochaine@gmail.com.
CAT LOVERS, WE SEE YOU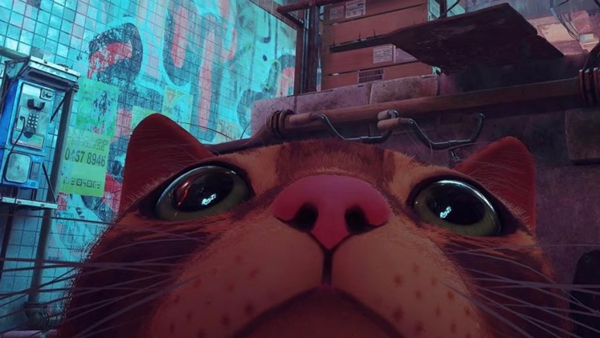 And so does Annapurna, whose gaming division has delivered probably the most successful advance in the world of animal adventures with Stray, where you will move through the world as an alley cat whose best friend is a drone. Take a few hours and go feline. One of the coolest uses of technology in storytelling we've seen in a while. Available for XBox, PlayStation and Windows; MacOS coming soon.
---
WANT IS THE SOUND THE SOUL MAKES
These are the things we want, and think that you'll want, too. Every product is independently selected by editors. Items you buy through our links may earn us a commission.
What We're Reading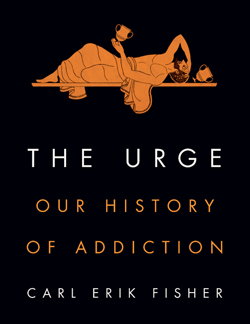 It takes a brave and generous brilliance to write a personal recovery memoir that also advances our understanding of addiction (from the idea of simple disease to something far more feeling and complex) while providing a masterful history of the human struggle with substances and compulsion - everything from gambling to opioids — across millennia. But that is exactly what Carl Erik Fisher, psychiatrist, bioethics scholar at Columbia, and person in recovery, has achieved in this remarkable book. The Urge is a compassionate tour de force, the kind of book that both explodes and rebirths its own genre. A feast for heart, soul and mind.
What We're Loving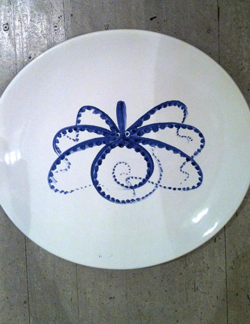 Did you know there was a time when women ran the world from the island of Crete? This was nearly 3,000 years ago. They had awesome taste, and adorned their ceramics with creatures of the sea, just like these modern Minoan pieces from Yria on the gorgeous Cycladic island of Paros. The studio is another matriarchy, run by Monique Mailloux and her daughter, Ramona Ghika, both women are master ceramicists, and all their pieces are made and painted by hand. Reach out on Instagram, @yriaceramics
What We're Grilling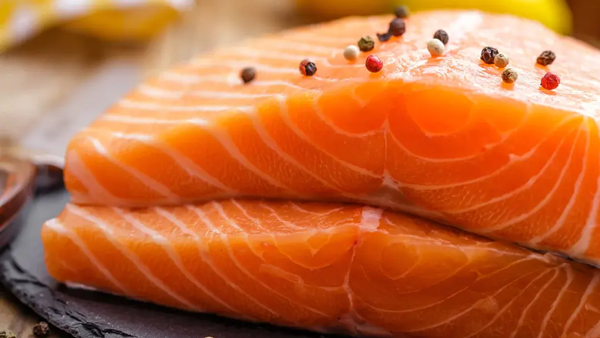 It's very easy, across a Labor Day weekend, to eat a wheel or two of brie cheese; whole schools of cocktail shrimp and avocado groves worth of guacamole. Never mind the wagyu and Martinis we recommended last week. We had our fun, so now let's take it down, dip our toes in the cooling Alaskan Waters that bring us this King Salmon from Sizzlefish.
What We Can't Believe Exists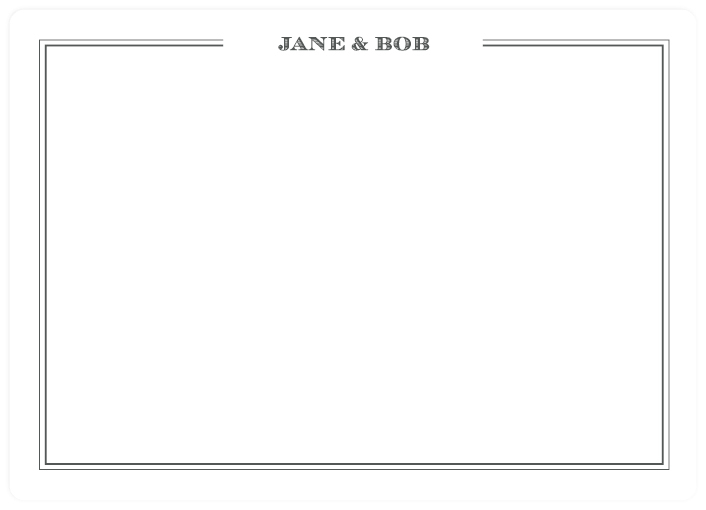 The internet is awash in bad stationery. Misuse of gold and silver foil. Clownish typography. Why? How? Stationery was, and should always be, elegant and simple; it's what you write that matters. We had to look incredibly hard to find this elegant design from Minted, and now you don't have to. It's a diamond in the rough. Stock up while it's on sale, and before someone adds gold confetti to the borders.
What We're Drinking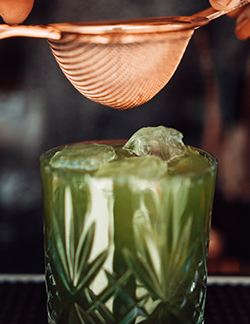 Tribeca's Man in Mustique has been hard at work on a special summer-extending cocktail: The Roland Garros. This is the rare cocktail recipe that comes to you as a poem. You'll want some Tanqueray, a good creme de menthe, lots of warm memories and a brilliant sunset.
The Roland Garros
A fistful of ice, a jigger-and-a-half of gin
A finger of liqueur de menthe doused in soda
Revives even the most squandered promise of summer
The clinking highball, a Mediterranean memory
Furtive kisses under dry fronds
Sparkling mint stretches cooling nights into
an invincible summer, within.
BH
---
Some Gospel for the Road
"Any depression should be met with a smile. Depression will think you are an idiot, and will run away."
- Robert DeNiro
---