One-third of this year's feature films at the 2016 Tribeca Film Festival have been directed by women. That's a staggering statistic by any measure and it doesn't even include the wealth of short films that have also been helmed by some of the boldest and hardest-working women in the independent film industry. These include everyone from actress-turned-directors like Katie Holmes and Mia Wasikowska to thrilling new voices like Leyla Bouzid, Ingrid Jungermann, and Meera Menon, the latter of whom won Tribeca's first-ever Nora Ephron Prize in 2013 for the rowdy road trip comedy Farah Goes Bang. For exemplifying Ephron's spirit and vision, Menon received the $25,000 award.
Created at the 2013 Tribeca Film Festival to honor Ephron, the award recognizes a woman who embodies the legacy of the legendary filmmaker and writer. With the Nora Ephron Award, we hope to inspire upcoming women directors and writers to bring compelling stories to the screen.

Here, then, in alphabetical order, is a complete and comprehensive guide to every single woman-directed film at this year's Festival, from life-capturing (and life-affirming) documentaries on a vibrant array of subjects to a virtual treasure trove of whip-smart comedies, heart-stirring dramas, edge-of-your-seat thrillers, and so much more.
For screening dates, visit the Film Guide. Tickets go on sale March 29.
Abortion: Stories Women Tell
Section: Viewpoints
Directed by Tracy Droz Tragos. (USA) – World Premiere, Documentary.
In 1973, the US Supreme court decision Roe v. Wade gave every woman the right to have an abortion. In 2016, abortion remains one of the most divisive issues in America, especially in Missouri. Award-winning director and Missouri native Tracy Droz Tragos sheds new light on the contentious issue by focusing on the women and their stories, rather than the debate. An HBO Documentary Film.
BUY TICKETS HERE
Adult Life Skills
Section: Viewpoints
Directed and written by Rachel Tunnard. (U.K.) – World Premiere, Narrative.
Anna (Jodie Whittaker) is stuck: she's approaching 30, living in her mother's shed, and spending her time making movies with her thumbs. Her mom wants her to move out; she just wants to be left alone. Adult Life Skills is an off-beat comedy about a woman who's lost, finding herself. With Jodie Whittaker, Brett Goldstein, Lorraine Ashbourne, Alice Lowe, Edward Hogg, Eileen Davies, Rachael Deering, Ozzy Myers. BUY TICKETS HERE
After Spring
Section: Viewpoints
Directed by Ellen Martinez and Steph Ching. (USA) – World Premiere, Documentary.
Close to 80,000 Syrian refugees live in the Zaatari Refugee Camp in Jordan. After Spring immerses us in the rhythms of the camp, the role of the aid workers, and the daily lives of two families as they contemplate an uncertain future. Executive produced by Jon Stewart, this documentary offers a fascinating journey through the camp's physical and human landscapes. In Arabic, English, Korean with subtitles. BUY TICKETS HERE
All This Panic
Section: World Documentary Competition
Directed by Jenny Gage. (USA) – World Premiere.
What is it like to come of age in New York City? First-time director Jenny Gage follows vivacious sisters, Ginger and Dusty, and their high school friends over the course of their crucial teen years. In this sensitive and cinematic documentary, Gage captures all the urgency, drama, and bittersweetness of girlhood as her subjects grapple with love, friendship, and what their futures hold. BUY TICKETS HERE

All We Had
Section: Spotlight
Directed by Katie Holmes, written by Josh Boone & Jill Killington. (USA) – World Premiere, Narrative.
Ruthie continually makes the best of her mother Rita's hard luck. When their attempt at settling in a new town hits a stumbling block, even Ruthie struggles to keep it together. Based on Annie Weatherwax's 2014 novel, Katie Holmes' feature directorial debut is an enriching coming-of-age drama about a resilient mother and daughter who find strength in each other. With Stefania Owen, Katie Holmes, Luke Wilson, Richard Kind, Mark Consuelos, Judy Greer, and Eve Lindley.
BUY TICKETS HERE
Almost Paris
Section: Special Screenings
Directed by Domenica Cameron-Scorsese, written by Wally Marzano-Lesnevich (USA) - World Premiere, Narrative.
In the wake of the mortgage lending crisis, a former banker has to return home in order to get back on his feet. Directed by Domenica Cameron-Scorsese, Almost Paris is a story of resilience and redemption where one can rise up, collaborate and give back to those he loves in ways that are priceless.
BUY TICKETS HERE

Always Shine
Section: US Narrative Competition
Directed by Sophia Takal, written by Lawrence Michael Levine. (USA) – World Premiere.
This twisty psychological drama about obsession, fame, and femininity follows two friends, both actresses (Mackenzie Davis and Caitlin FitzGerald), on a trip to Big Sur, to reconnect with one another. Once alone, the women's suppressed jealousies and deep-seated resentments begin to rise, causing them to lose their grasp on not only the true nature of their relationship, but also their identities. With Lawrence Michael Levine, Alex Koch, Jane Adams.
BUY TICKETS HERE
As I Open My Eyes (À peine j'ouvre les yeux)
Section: Viewpoints
Directed by Leyla Bouzid, written by Leyla Bouzid and Marie-Sophie Chambon. (France, Tunisia, Belgium, United Arab Emirates) – US Premiere, Narrative.
As I Open My Eyes depicts the clash between culture and family as seen through the eyes of a young Tunisian woman balancing the traditional expectations of her family with her creative life as the singer in a politically charged rock band. Director Leyla Bouzid's musical feature debut offers a nuanced portrait of the individual implications of the incipient Arab Spring. With Baya Medhaffer, Ghalia Benali, Montassar Ayari, Aymen Omrani, Lassaad Jamoussi, Deena Abdelwahed, Youssef Soltana, Marwen Soltana. In Arabic with subtitles. Presented in association with Venice Days.
BUY TICKETS HERE
AWOL
Section: US Narrative Competition
Directed by Deb Shoval, written by Deb Shoval and Karolina Waclawiak. (USA) – World Premiere.
Joey (Lola Kirke) is a young woman in search of direction in her small town. A visit to an army recruiting office appears to provide a path, but when she meets and falls in love with Rayna (Breeda Wool) that path diverges in ways that neither woman anticipates. Building on the award-winning short of the same name, director Deb Shoval crafts a clear-eyed love story and an impressive feature film debut.
BUY TICKETS HERE
Bad Rap
Section: Spotlight
Directed and written by Salima Koroma. (USA) – World Premiere, Documentary.
Bad Rap follows the lives and careers of four Asian-American rappers trying to break into a world that often treats them as outsiders. Sharing dynamic live performance footage and revealing interviews, these artists will make the most skeptical critics into believers. With humor and insight, the film paints a portrait of artistic passion in the face of an unsung struggle. With Jonathan "Dumbfoundead" Park, Nora "Awkwafina" Lum, David "Rekstizzy" Lee, and Richard "Lyricks" Lee.
BUY TICKETS HERE.
By Sidney Lumet
Section: Tribeca Talks: After the Movie
Directed by Nancy Buirski. (USA) - World Premiere, Documentary.
In a never-before-seen interview made a few years before his death, Sidney Lumet guides us through his life and work, the trailblazing canon of one of the most socially conscious directors in cinema. With candor and humor, he reveals what matters to him as an artist and a human being.
BUY TICKETS HERE.
Califórnia
Section: Viewpoints
Directed by Marina Person, written by Marina Person, Mariana Veríssimo, and Francisco Guarnieri. (Brazil) – North American Premiere, Narrative.
Nostalgic, sweet, and at moments poignantly funny, Califórnia is a coming-of-age tale about a high school student, Estela, growing up in São Paulo in the 1980s. Estela is doing all she can to get to California to visit her glamorous and cultured uncle. While focused on keeping her grades up, her life is complicated by romance, sex, and social pressures. With Clara Gallo, Caio Blat, and Caio Horowicz. In Portuguese with subtitles. BUY TICKETS HERE
Check It
Section: Spotlight
Directed by Dana Flor and Toby Oppenheimer. (USA) – World Premiere, Documentary
Fed up with being abused and harassed on the brutal inner-city streets of Washington D.C., a group of gay and trans teens form a gang to fight back. This raw and intimate portrait follows four Check It members as they struggle to find a way out of gang life through an unlikely avenue: fashion. BUY TICKETS HERE
Children of the Mountain
Section: Viewpoints
Directed and written by Priscilla Anany. (USA, Ghana) – World Premiere, Narrative.
When a young woman gives birth to a deformed and sickly child, she becomes the victim of cruelty and superstition in her Ghanaian community. Discarded by her lover, she is convinced she suffers from a "dirty womb," and embarks on a journey to heal her son and create a future for them both. With Rukiyat Masud, Grace Omaboe, Akofa Edjeani, Adjetey Annang, Agbeko Mortty (Bex), Dzifa Glikpo, Mynna Otoo. In Twi with subtitles. BUY TICKETS HERE
Enlighten Us: The Rise and Fall of James Arthur Ray
Section: Spotlight
Directed by Jenny Carchman. (USA) – World Premiere, Documentary.
The self-help industry is worth $11 billion dollars a year; it captivates those seeking happiness, release from suffering, and those longing for a path and a leader to follow. James Arthur Ray, for many, was that sort of leader. But when a sweat lodge ceremony goes horribly wrong, we learn from Ray and some of his followers that their spiritual path was fraught with danger and perhaps even greater suffering. BUY TICKETS HERE
Equity
Directed Meera Menon
Written by Amy Fox
Breaking Bad's terrific Anna Gunn stars as a senior investment banker unraveling amidst financial scandal in the latest effort from Meera Menon, whose raucous debut road trip comedy Farah Goes Bang picked up Tribeca's inaugural Nora Ephron Prize for woman writer-directors back in 2013. Her dramatic follow-up (penned by Amy Fox) is oh-so-enticingly being billed as "the first female-driven Wall Street film." So take that, The Big Short. —Matthew Eng
BUY TICKETS HERE
Elvis & Nixon
Section: Centerpiece
Directed by Liza Johnson, written by Joey Sagal, Hanala Sagal, and Cary Elwes. (USA) – World Premiere, Narrative.
In 1970, a few days before Christmas, Elvis Presley showed up on the White House lawn seeking to be deputized into the Bureau of Narcotics and Dangerous Drugs by the President himself. Elvis & Nixon, starring Michael Shannon and Kevin Spacey, respectively, imagines the comical details of this outlandish historical encounter. Featuring supporting performances from Alex Pettyfer, Johnny Knoxville, Colin Hanks, Evan Peters, and Sky Ferreira. An Amazon Studios/Bleecker Street release. BUY TICKETS HERE
Everybody Knows...Elizabeth Murray
Section: Special Screenings
Directed by Kristi Zea. (USA) – World Premiere, Documentary.
This tribute to the dynamic artist Elizabeth Murray, an intrinsic figure in New York's contemporary art landscape from the 1970s until the early 2000s, highlights her struggle to balance personal and family ambition with artistic drive in a male-dominated art world. It also addresses her later battle with cancer, at the peak of her career. Screening in partnership with the Whitney Museum of American Art, where the film will screen. BUY TICKETS HERE
Father's Day (USA)
Shorts Program: New York Now
Directed by Kiki Lambden Stout, written by Elizabeth Canavan. (USA) – World Premiere.
A mother abandons her family on Father's Day, forcing the family to come face-to-face with her devastating disease.
BUY TICKETS HERE
Fear
Shorts Program: Whoopi's Shorts
Directed by Dawn Dreyer, Andrea Love. (USA) – World Premiere.
Dr. Zenglo Chen was four when his parents disappeared, victims of the Chinese Cultural Revolution. Through Zenglo's own words and exquisitely crafted hand drawn and stop motion animation, Fear considers the tension between fear and safety; faith and psychology; Chinese and American; and acceptance and healing.
BUY TICKETS HERE
Girl Band
Shorts Program: California Dreaming
Directed and written by Kerry Furrh, Cailin Lowry, and Olivia Mitchell. (USA) – World Premiere.
It's a beautiful morning in the middle of fucking nowhere. Four best friends/bandmates are packed and ready to make their long-anticipated road-trip move to Los Angeles, but their hometown keeps getting in the way. BUY TICKETS HERE
haveababy
Section: Viewpoints
Directed by Amanda Micheli. (USA) – World Premiere, Documentary.
Amanda Micheli's haveababy opens with a YouTube-based competition for a free round of in vitro fertilization, courtesy of a Las Vegas fertility clinic. Through this controversial contest, Micheli explores the complexities of America's burgeoning fertility industry and paints an intimate portrait of the many resilient couples determined to have a baby against all odds.
BUY TICKETS HERE
Hold On (Houvast)
Shorts Program: Pressure Points
Directed by Charlotte Scott-Wilson, written by Charlotte Scott-Wilson and Marielot van der Slikke. (Netherlands) – World Premiere.
A young cellist has to overcome her fears in order to keep her position in an orchestra. In Dutch with subtitles.
BUY TICKETS HERE
Holidays
Section: Midnight
"Mother's Day" segment written and directed by Sarah Adina Smith (USA) – World Premiere, Narrative.
Get in the holiday spirit with this horror anthology from some of today's most visionary genre auteurs. From a very unholy Easter Bunny to a particularly macabre Valentine's Day gift, Holidays is a full calendar year of festive stories, bringing out the most twisted and subversive sides of each seasonal celebration. With Seth Green, Clare Grant, Ruth Bradley, Sophie Traub, Jocelin Donahue, Harley, Morenstein, Lorenza Izzo, and Andrew Bowen. BUY TICKETS HERE
Homeland (Hemland)
Shorts Program: Rock and a Hard Place
Directed and written by Sara Broos. (Sweden) – North American Premiere.
A young woman escapes the war in Syria and ends up in the forest in Sweden. Listening to music is a way for her to survive and bring her back, in dreams and memories, to her homeland. This is a film about the power of music and the meaning of the word homeland. In Arabic, English, Swedish with subtitles. BUY TICKETS HERE
Icaros: A Vision
Section: International Narrative Competition
Directed by Leonor Caraballo and Matteo Norzi, written by Leonor Caraballo, Matteo Norzi, and Abou Farman. (Peru, USA) – World Premiere.
An American woman in search of a miracle embarks on an adventure in the Peruvian Amazon. At a healing center, she finds hope in the form of an ancient psychedelic plant known as ayahuasca. With her perception forever altered, she bonds with a young indigenous shaman who is treating a group of psychonauts seeking transcendence, companionship, and the secrets of life and death. With Ana Cecilia Stieglitz, Arturo Izquierdo, Filippo Timi. In English, Spanish with subtitles.
BUY TICKETS HERE
Jeremiah Tower: The Last Magnificent
Directed by Lydia Tenaglia
The story of celebrated chef Jeremiah Tower, who rose to prominence at Alice Waters' famed Chez Panisse and later founded San Francisco's legendary Stars. In 1998, Tower's empire crumbled and after a long exile in Mexico, Tower, 72, attempts to take on the fabled yet troubled Tavern on the Green. BUY TICKETS HERE
Joe's Violin
Shorts Program: New York Then
irected by Kahane Cooperman. (USA) – World Premiere.
A 91-year-old Holocaust survivor donates his violin to an instrument drive, changing the life of a 12-year-old schoolgirl from the Bronx and unexpectedly, his own. BUY TICKETS HERE
The Last Laugh
Section: Spotlight
Directed by Ferne Pearlstein, written by Robert Edwards and Ferne Pearlstein. (USA) – World Premiere, Documentary.
When is comedy not funny? Some would argue, when it's about the Holocaust. Through interviews and performances featuring people on either side of the issue—including Mel Brooks, Sarah Silverman, Louis C.K., Joan Rivers, Chris Rock, and Abe Foxman—as well as a portrait of a resilient survivor, The Last Laugh offers an intelligent and hilarious survey of what is and is not off-limits in comedy, from the Holocaust and beyond. BUY TICKETS HERE
Let's Dance: Bowie Down Under
Shorts Program: Rock and a Hard Place
Directed by Rubika Shah, written by Ed Gibbs and Rubika Shah. (U.K., Australia) – North American Premiere.
The remarkable, forgotten story behind "Let's Dance," David Bowie's biggest hit record. BUY TICKETS HERE
LoveTrue
Section: World Documentary Competition
Directed by Alma Har'el. (USA) – World Premiere.
Alma Har'el, director and cinematographer of the 2011 TFF Best Documentary Feature Bombay Beach, returns with LoveTrue, a genre-bending documentary, demystifying the fantasy of true love. From an Alaskan strip club, a Hawaiian island, and the streets of NYC—revelatory stories emerge about a deeper definition of love. Set to a hypnotizing score by Flying Lotus and executive produced by Shia LaBeouf. A TFI Documentary Fund grantee. BUY TICKETS HERE
Madly
Section: International Narrative Competition
Segments directed by Natasha Khan and Mia Wasikowska (Argentina, Australia, USA, India, Japan, UK) – World Premiere.
An opening night selection, Madly is an international anthology of short films exploring love in all its permutations. Directed by some of the most vibrant filmmakers working today, the six stories in Madly portray contemporary love in all its glorious, sad, ecstatic, empowering, and erotic manifestations. With Radhika Apte, Satyadeep Misra, Adarsh Gourav, Kathryn Beck, Lex Santos, Mariko Tsutsui, Yuki Sakurai, Ami Tomite, Justina Bustos, Pablo Seijo, Tamsin Topolski. In English, Hindi, Japanese, Spanish with subtitles. BUY TICKETS HERE
Maurizio Cattelan: Be Right Back
Section: Special Screenings
Directed and written by Maura Axelrod. (USA) – World Premiere, Documentary.
An art world upstart, provocative and elusive artist Maurizio Cattelan made his career on playful and subversive works that send up the artistic establishment, until a retrospective at the Guggenheim in 2011 finally solidified his place in the contemporary art canon. Axelrod's equally playful profile leaves no stone unturned in trying to figure out: who is Maurizio Cattelan? In English, Italian with subtitles. Screening in partnership with the Guggenheim Museum where the film will screen. BUY TICKETS HERE
The Meddler
Section: Spotlight
Directed and written by Lorene Scafaria. (USA) – US Premiere, Narrative.
Susan Sarandon delivers a magnetic performance as the doting, mother supreme Marnie Minervini, who crosses coasts to drop into the life of her screenwriter daughter Lori (Rose Byrne). Loosely autobiographical, Lorene Scafaria's heartfelt comedy offers a wryly scripted defense of a woman struggling to cope with familial loss. Co-starring J.K. Simmons, Cecily Strong, Jerrod Carmichael, and Jason Ritter. A Sony Pictures Classic release. BUY TICKETS HERE
Memories of a Penitent Heart
Section: World Documentary Competition
Directed by Cecilia Aldarondo. (USA, Puerto Rico) – World Premiere.
Like many gay men in the 1980s, Miguel moved from Puerto Rico to New York City; he found a career in theater and a rewarding relationship. Yet, on his deathbed he grappled to reconcile his homosexuality with his Catholic upbringing. Now, decades after his death, his niece Cecilia locates Miguel's estranged lover to understand the truth, and in the process opens up long-dormant family secrets. In English, Spanish with subtitles. BUY TICKETS HERE
Mother (Ema)
Section: International Narrative Competition
Directed by Kadri Kousaar, written by Leana Jalukse and Al Wallcat. (Estonia) – International Premiere.
This darkly comic crime mystery set in small-town Estonia centers on Elsa, the full time caretaker of her comatose son, Lauri, and the locals, who are abuzz with rumors about who shot Lauri and why. But in this tight-knit town, where everyone seems to know everyone and everything except for what's right under their nose, the world's clumsiest crime may go unsolved. With Tiina Mälberg, Jaan Pehk, Andres Tabun, Andres Noormets, Rea Lest, Jaak Prints, Siim Maaten. In Estonian with subtitles. BUY TICKETS HERE
My Blind Brother
Section: Spotlight
Directed and written by Sophie Goodhart. (USA) – New York Premiere, Narrative.
In Sophie Goodhart's utterly original romantic comedy, Robbie (Adam Scott) is a champion blind athlete and local sports hero whose brother Bill (Nick Kroll) is always overlooked, even though he runs every marathon by his side. When both fall for the same lady (Jenny Slate), Bill must decide if he will put himself second again, or finally stand up to his blind brother. With Zoe Kazan, Charlie Hewson, Maryann Nagel, and Greg Violand. BUY TICKETS HERE
National Bird
Section: Spotlight
Directed by Sonia Kennebeck. (USA) – International Premiere, Documentary.
Sonia Kennebeck takes on the controversial tactic of drone warfare, and demands accountability through the personal accounts—recollections, traumas, and responses—of three American military veterans whose lives have been shaken by the roles they played in this controversial method of attack. Executive produced by Wim Wenders and Errol Morris. In Dari, English with subtitles.
BUY TICKETS HERE
Nkosi Coiffure
Shorts Program: Learning Curve
Directed and written by Frederike Migom. (Belgium) – US Premiere.
After fighting with her boyfriend on the street, in Brussels' African neighbourhood, Eva escapes into a hair salon. The women in the salon initially support her, seeing a woman in distress. But, when they find out what the fight was about, opinions differ. In Flemish, French, Lingala with subtitles. BUY TICKETS HERE
Obit
Section: Viewpoints
Directed by Vanessa Gould. (USA) – World Premiere, Documentary.
Within the storied walls of The New York Times, a team of writers is entrusted with reflecting upon the luminaries, icons, and world leaders of our day. Vanessa Gould's fascinating documentary introduces us to those responsible for crafting the unequaled obituaries of the NYT. As we're taken through their painstaking process we learn about the pressures accompanying a career spent shaping the story of a life. BUY TICKETS HERE
One Good Pitch
Shorts Program: First Impressions
Directed by Parker Hill, written by Parker Hill and Evan Ari Kelman. (USA) – World Premiere.
After some time apart, Andrew hopes that a game of catch will help him reconnect with his father. BUY TICKETS HERE
Reality+
Shorts Program: Warped Speed
Directed and written by Coralie Fargeat. (France) – New York Premiere.
The brain chip Reality+ acts on your sensory perceptions and allows you to see yourself with a perfect physique. All the people equipped with the chip can see your new appearance and you can see theirs. But the chip is only active for 12h a day... In French with subtitles. BUY TICKETS HERE
The Return
Section: World Documentary Competition
Directed by Kelly Duane de la Vega and Katie Galloway, written by Kelly Duane de la Vega, Katie Galloway, and Greg O'Toole. (USA) – World Premiere.
How does one reintegrate into society after making peace with a life sentence? California's controversial and notoriously harsh three-strikes law was repealed in 2012, consequently releasing large numbers of convicts back into society.The Return presents an unbiased observation of the many issues with re-entry through the varied experiences of recently freed lifers. BUY TICKETS HERE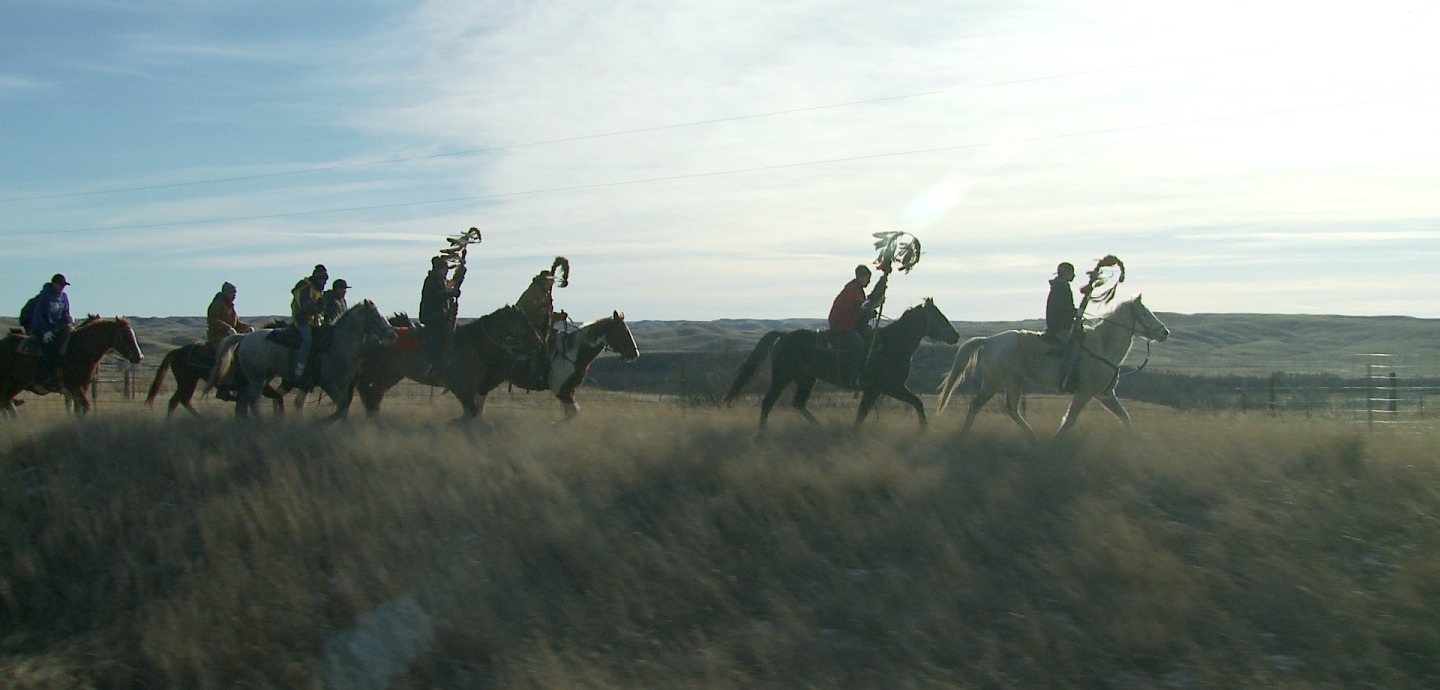 The Ride
Section: Viewpoints
Directed and written by Stéphanie Gillard. (France) – World Premiere, Documentary.
The Ride takes us along the annual 300-mile trek through the South Dakota Badlands. There, young men and women of the Lakota Sioux ride horseback and reflect upon the history of their ancestors. This intimate, stunningly photographed account captures the thoughts and emotions of the young riders and the adults who guide them along their journey.
BUY TICKETS HERE
Semele
Shorts Program: Learning Curve
Directed and written by Myrsini Aristidou. (Cyprus) – New York Premiere.
A school note becomes just the right excuse for Semele to visit her father at his workplace. In Greek with subtitles.
BUY TICKETS HERE
The Short Story of a Fox and a Mouse
Shorts Program: Whoopi's Shorts
Directed and written by Camille Chaix, Hugo Jean, Juliette Jourdan, Marie Pillier, Kevin Roger. (France) – US Premiere.
A lonesome fox hunts a mouse, when two owls interfere with the hunt, their relationship evolves. BUY TICKETS HERE
SOLITARY
Section: Viewpoints
Directed by Kristi Jacobson. (USA) – World Premiere, Documentary.
With unprecedented access, director Kristi Jacobson offers a deeply moving portrait of life inside solitary confinement within a supermax prison. Filmed over the course of one year, this riveting film tells the story of the complex personalities that dwell on either side of a cell door while raising provocative questions about the nature of crime and punishment in America today. An HBO Documentary Film and a Gucci Tribeca Documentary Fund grantee. BUY TICKETS HERE
Southwest of Salem: The Story of the San Antonio Four
Section: Viewpoints
Directed by Deborah S. Esquenazi. (USA) – World Premiere, Documentary.
In 1994, four women were tried and convicted of a heinous assault on two young girls in a court case that was infused with homophobic prejudice and the Satanic Panic sweeping the nation at that time. Southwest of Salem is a fascinating true crime story that puts the trial of the San Antonio Four in context of their ongoing search for exoneration. BUY TICKETS HERE
Strike a Pose
Section: Spotlight
Directed and written by Ester Gould and Reijer Zwaan. (Netherlands) – North American Premiere, Documentary.
To the fans, they were the unforgettably talented men who supported the career of one of the world's most beloved and controversial music artists: Madonna. Behind the scenes they were an impressionable group of young dancers whose lives were forever changed by her influence. Strike a Pose reunites the men 25 years later, providing the chance to learn about the emotional truth behind the glamorous facade. BUY TICKETS HERE
This Magic Moment
Section: Tribeca/ESPN Film Festival
Co-directed by Erin Leyden and Gentry Kirby. (USA) – World Premiere. Documentary.
In the mid-1990s, Orlando was the epicenter of excitement in the NBA. The young franchise, led by mega-stars Shaquille O'Neal and Penny Hardaway, beat Michael Jordan and the mighty Bulls en route to the 1995 NBA Finals. They lost to the Rockets that year but it was clear this team from Orlando was a dynasty in the making. But the Magic's moment on top was never fully realized, a classic "what-could-have-been" story, where success came fast and big and then "poof," the magic was gone. BUY TICKETS HERE
Tickling Giants
Section: World Documentary Competition
Directed and written by Sara Taksler. (USA) – World Premiere.
Charting Bassem Youssef's rise as Egypt's foremost on-screen satirist, Tickling Giants offers a rousing celebration of free speech and a showcase for the power of satire to speak for the people against a repressive government. Where this story differs from the familiar success of Youssef's idol, Jon Stewart: Bassem's jokes come with serious, dangerous, and at times revolutionary consequences. In Arabic, English with subtitles. BUY TICKETS HERE
Women Who Kill
Section: US Narrative Competition
Written and directed by Ingrid Jungermann
Morgan and Jean work well together as true crime podcasters because they didn't work well, at all, as a couple. When Morgan strikes up a new relationship with the mysterious Simone, their shared interest turns into suspicion, paranoia, and fear. Ingrid Jungermann's whip smart feature debut is an adept and wry comedy on modern romance's hollow results, set in an LGBTQ Brooklyn. With Ingrid Jungermann, Ann Carr, Sheila Vand, Shannon O'Neill, Annette O'Toole, Grace Rex.
BUY TICKETS HERE
You Can Go
Shorts Program: New York Now
Directed by Christine Turner, written by Daniel Solé. (USA) – World Premiere.
A high school administrator talks down a troubled student. BUY TICKETS HERE
---